There are two major features in this release:
1.
SVP (Sega Virtua Processor) support
for
Virtua Racing
at playable speeds (often fullspeed).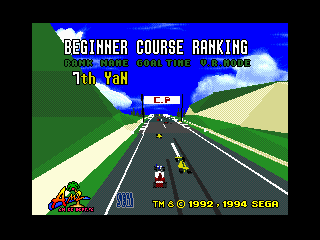 2. Greatly improved
streaming
for Sega CD games. Read-ahead buffer must be disabled for this to work.
Other then that, some other things were fixed or improved.
More detailed changelog below:
Added support for SVP (Sega Virtua Processor) to emulate Virtua Racing, wrote ARM recompiler and some HLE code for VR. Credits to Exophase and Rokas for various ideas.
Changed config file format, files are now human-readable. Game specific configs are now held in single file (but old game config files are still read when new one is missing).
Fixed a bug where some key combos didn't work as expected.
Fixed a regression in renderer (some graphic glitches in rare cases).
Adjusted fast renderer to work with more games, including VR.
Fixed a problem where SegaCD RAM cart data was getting lost on reset.
Greatly reduced SegaCD FMV game slowdowns by disabling read-ahead in the Linux kernel and C library (thanks to Rokas and Exophase for ideas again). Be sure to keep "ReadAhead buffer" OFF to avoid slowdowns.
PicoDrive now comes with a game config file for some games which need special settings, so they should now work out-of-the-box. More games will be added with later updates.
Files now can be deleted by pressing A+SELECT in the file browser.
Update:
1.40a with some config fixes
Update2:
1.40c with fixes for some recently reported issues
download here
________
Note that Virtua Racing needs some special settings to run well, but the new config system should handle all that for you. In case it doesn't, switch renderer to "8bit fast", disable "accurate timing", and enable "SVP dynarec" in advanced options. You will also need to overclock a bit.
The majority bug reports I get are actually configuration issues (people mess up their configs), there are far too many options in PD. To solve that, I could simply remove most options and force them to accuracy mode. But that is not a good idea, because those opts allow doing things like extreme underclocking for some games, and I know some people do that (I will probably do that for Pandora, though). So I decided making a single file for game configs, and ship PD with that file. The file contains special settings for some games which need them, so those games work out-of-the-box. I haven't prepared it for every game out there though (that would need far too much time), so users can update and share it. The games are detected using headers, so there is no need to worry about filenames differing.