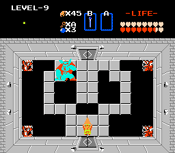 Now scaled, with optimized allegro, corrected keys and with MUSIC support!
The Allegro compiled with the arm flags really made a difference, now with sound, music, scaled, and running at 43fps!
The bad news is that the music patches added 45mb to the file!
I don't know if my hosting will support too many downloads, but if it doesn't, I'm sure ED will find somewhere for me to put it
Now you can play it ED, let this stress that is inside you vanish a little!
http://dl.openhandhe...?0,0,0,0,26,188